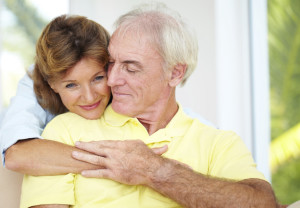 Losing a loved one can be a huge shock and, at the same time as dealing with the grief, you will have a number of urgent tasks to carry out.  Not least of these is thinking about the funeral, which will most likely take place at least a week after the death occurs. 
During that time, you can feel like you are "on autopilot" and just "going through the motions". As well as this, you may not have been to many funerals during your life, so you might not know what to include in a funeral ceremony.  It may only be weeks after, when you have had a chance to reflect, that you regret not including certain elements in the send off for your loved one.
Alternatively, you might be planning your own funeral and you have ideas about what you would like to do, but dare not do it because you do not think it is acceptable.  What you may not realise is that funerals have changed quite dramatically in recently years.
Whereas a Victorian funeral was an elaborate affair, by the mid-twentieth century it had become a very low key ceremony.  The end of the 20th century and the beginning of the 21st century witnessed a rapid expansion in the types of funerals available, and you may now be surprised at the amount of variety and choice available.
This is why we have put together this guide, explaining trends in what other people are choosing for their or their loved ones funerals and to give you some ideas about what you might wish to do yourself.
Celebration and personalisation
Funerals have seen rapid change in recent years and it has been suggested that in the UK mourners are "reclaiming" the funeral.  Before the 1980s, most people in the UK chose a religious funeral, even if they rarely went to church.  However, people started to feel that the service was impersonal and at odds with the beliefs of both the mourners and the deceased if they were not religious.
Many people increasingly felt it had become meaningless and that it was not an appropriate way to say goodbye to a loved one.  People began to express a desire to celebrate the life of the individual who has passed away, rather than mourning their death.
It was this feeling which led to the first humanist funerals taking place, where loved ones, rather than a minister, would lead a simple service celebrating the life of the deceased.  These were often described as "D.I.Y. funerals".  However, humanist funerals were considered by some to be going too far and that there must be space to grieve as well as to celebrate.  Despite this, some elements of humanist funerals have entered the mainstream in recent years and it is now quite common for a funeral service to be lead by a non-religious "officiant", who will prepare a service, in close consultation with the family, to reflect the deceased's life, achievements and interests.  Unlike with a humanist funeral, religious elements can be included and the overall result is a very individual service, celebrating the life that had been lived.
Funerals are, therefore, increasingly regarded as a celebration of a person's life rather than just mourning their passing.  They are uplifting occasions where families, friends and loved ones increasingly choose to add personal touches to a funeral service and arrange unique elements to give a send off to a unique person.  This includes celebrating their personality, hobbies, interests, and passions and everything that made them special.  Just as no two people are the same, such is the desire for no two funerals to be the same.
Religion
Although funerals have become increasingly secular in nature, religion still often plays a role, albeit an increasingly reduced role.  More and more funerals do not include God.
Part of this is because people are now more willing to admit that they do not believe in God, and therefore to act in death as they did in life and not be accused of "hypocrisy".
Dominic Maguire of the National Association of Funeral Directors (NAFD) has said "Years ago, people thought they needed a minister of some religion. They were concerned about what the neighbours would think.  Now they are saying there's going to be no hypocrisy in death".
However, a large number of funerals still are religious and even non-traditional services will often include some element of religion, such as a hymn or a prayer.  It now depends on what the individual believed in, rather than what was expected of them in society.
Popularity of Cremation
Probably the biggest decision that you have to make after your loved one passes away, if they have not already made the decision, is whether to have a cremation or burial.
Demands for cremation started in the UK's cities at the end of the 19th century, due to the cost of burials and a lack of space in crowded burial grounds.  The UK's first crematorium opened in Woking in 1885, coincidentally, the same year  that W.A. Truelove & Son Limited was founded.   In 1930, less than 5% of funerals were cremations, but by the 1950s and 1960s cremations had increased in popularity, with around 35% of people being cremated nationwide.  In 1963, the Pope lifted a ban on Roman Catholics being cremated and, in 1968, the number of cremations in the UK exceeded the number of burials for the first time.
Since then the proportion of cremations compared to burials has continued to grow, with figures currently between 70 and 75% in the UK and over 80% in the greater London area.   As the population continues to grow, space for burials has become increasingly limited, leading to the cost of buying a plot for a grave rising enormously.
However, part of this trend may be connected to the issue of personalisation.  With cremation, the ashes of your loved one can be scattered in a place that meant something to that person – maybe where they lived, a favourite holiday destination, where they became engaged or married, or just on a favourite walk.
It may also be connected to the issue of whether to celebrate a person's life or to mourn their passing.  Going to a memorial stone in a graveyard is generally a very sad experience, whereas visiting a favourite spot, rather than being in a gloomy place, should be full of happy, yet poignant, memories.
Despite the increase in non-religious funerals there may be an element of spirituality in the desire for a cremation.  With a burial, the body is in one spot in the cemetery or churchyard.  If ashes are scattered, that person is all around you all the time.  It can, therefore, feel less final.
The Funeral Service
We are now going to look at some of the key points of the funeral and the choices people are making in line with recent trends:
Dress code
Traditionally, mourners at a funeral service would wear black, and although it is still the most commonly worn colour at funerals, attendees today are often asked to wear something bright and colourful to celebrate the life of the person rather than mourn their death.
Coffins and dressing the deceased
Coffins can now be personalised with different colours and designs to match the individual nature of the deceased, and are available in a wide range of styles and materials, such as cardboard, picture, willow and eco friendly styles, or even designer.
It is becoming increasingly popular for people to choose environmentally friendly coffins.  Some of the most popular choices are: willow, seagrass, cocostick, banana, loom, bamboo, water hyacinth and wool.
It has always been popular to dress the deceased in their own clothes, but these days families are asking to dress their loved ones in something that really emphasises their individuality and character – such as a work uniform, a kilt, a sports strip or something else that people would associate with that person.
Hearses and funeral transportation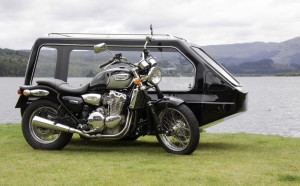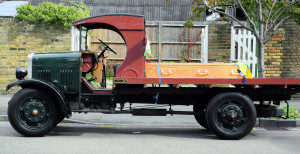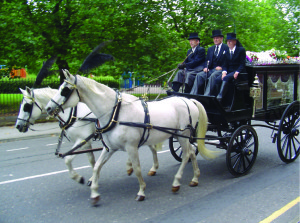 People now have a much wider choice when it comes to the type of vehicle used to transport a person on their final journey.  Whilst the traditional hearse remains the most popular, there are a wide variety of alternatives available which help to personalise a funeral and display part of the person's character.
Horse drawn carriages, lorries and motorbikes with sidecars are all good examples of the diverse range of transport available.  The method of transport often reflects the career of the individual – for example, a bus for a bus driver, a tractor for a farmer, or a fire engine for a fire-fighter.
The route the funeral cortege takes is also becoming increasingly important.  People may deliberately choose for it to go past their house, or their favourite pub or restaurant, their place of work, their sports club, or perhaps the place where they met their spouse.
Carrying the coffin
More and more close family and friends are asking if they can carry the coffin and act as pallbearers.  Many people consider this to be a mark of respect and a more personal touch to have people who meant something carrying the deceased on their last journey, rather than strangers.
Flowers and donations
It has always been popular to leave floral tributes at funerals and it still is.  In fact, it is very unusual not to see some flowers on top of the coffin.  However, many families now try to be imaginative when deciding on a floral tribute for their loved ones, with flowers spelling out "Mum" or "Dad" or the person's name, or being designed in the shape of something that had particular meaning to that person, such as a connection to their favourite sports team, their car, their favourite animal or something else that was recognisable to them.
However, whilst the close family might still prefer to leave a personal floral tribute to accompany the coffin, mourners are increasingly being asked to make a donation to a charity rather than to bring flowers to the funeral.  Whilst flowers will probably not last more than a week or two, it is felt that a donation to charity can do some good in the name of the person who has passed away.  So, for example, if the person was being treated by a hospice, the family might ask for donations to that hospice rather than a bunch of flowers.  It is estimated that over half of funerals now ask mourners for a donation to charity.  With online donations websites, such as Love2Donate, it is now very easy to make a charitable donation online, with the charity concerned also automatically benefitting from Gift Aid.
Orders of Service
Personalisation extends to the Orders of Service, which previously would only have been personalised with the person's name, date of birth and death on the front cover.
These days more people are including individual elements in these, such as photos of the deceased, stories, quotes, poems and other unique touches.
Readings and music
Poems, rather than psalms or bible readings are often chosen at funerals. This is part of the personalisation and secularisation of the service – people often have a favourite poem or a verse that means something to them, whereas few people have a favourite psalm or religious reading.
There is also a growth in popular contemporary songs being played at funerals rather than hymns.  Again, almost everyone has a favourite song or a piece of music which meant something to them, but fewer people nowadays have a favourite hymn.
As an alternative to these two options, classical music is becoming more popular at some funerals, particularly for those who are not religious and do not want hymns, but also do not want pop music played at their funeral.
However, there is quite an eclectic mix of funeral music, with some people choosing the theme tune to their favourite soap or TV program, or the anthem to their sports teams.
Speaking at the funeral
Whether delivering the eulogy, reading out a poem or sharing stories of friendship, love and laughter, today those close to the loved one will often ask to speak, where traditionally a minister would deliver a solemn reading.
At the graveside
People are increasingly choosing to have something at the graveside other than the family and mourners throwing soil or flowers into the grave.  Examples include: having a band playing, releasing balloons, or even having a flypast.  Many people choose to have white doves released at their funeral, which is a symbol of new life and of peace.
Funeral receptions
As with the funeral service, people are increasingly choosing to use the funeral reception to celebrate the life of their loved one rather than to mourn their passing.  Key to this is allowing people the chance to share memories of the deceased and this can be done using slide shows or displays of photographs of the person's life.
In line with the personalised elements of funeral trends, families are often choosing to serve the favourite food and drinks of their loved ones at the reception, which are frequently held in a building which meant something to the person who has passed away, such as their sports club, social club, home or local pub.  Families are even choosing to include some form of entertainment at the funeral reception, such as a singer or a band, playing music or songs which meant something to the person who has passed away.
Environmentally friendly funerals
As environmental awareness has grown in recent years, so has people's desire to reduce their impact on the environment at their own funeral.  The growth in cremations has led to concerns about the impact of cremations on the environment with the average cremator running for 75 minutes at temperatures of up to 1,150°c.  According to the Natural Death Centre, one cremation uses as much energy as a 500 mile car trip.
This has led to a rise in people wanting a "natural burial" or "green funeral".  This involves burial in a field or woodland which has been specifically designated for the purpose, or sometimes on the deceased's own land.  An environmentally friendly coffin, made from natural materials, is often used. It is not usual for the grave to be marked, but some woodland burial grounds allow for a tree or shrub to be planted.  The idea is that the entire site commemorates the life lived rather than the specific grave, which can put some people off as there is no memorial to the person, so loved ones can have difficulty locating exactly where the body is buried. There are now over 200 natural burial grounds in the UK.  The nearest to us is the Clandon Wood Natural Burial Reserve in the Surrey Hills near Guildford.
The Natural Death Centre also believes that many people do not like the "factory conveyor belt" atmosphere of a cremation and research into natural burials has shown that people "like to visit sites where they can hear the birds or a stream in a wildlife habitat.  Some people are put off by the formality of cemeteries and are uncomfortable with the conventions and rules involved in formal burials".
Conclusion
It is clear is that it is becoming more difficult to classify a funeral.  People tend to take a pick 'n' mix attitude to funerals, just as they do to life, including bits they like and discarding bits they do not.  So there might be a humanist element, but also a little religion.  Funerals, like individuals, are becoming increasingly unique.
Religious symbolism and meaning is often removed from a funeral, but instead it is being replaced with symbolism and meaning for the individual's life.