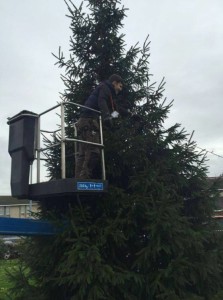 WA Truelove & Son Ltd is pleased to be sponsoring the Christmas tree at St. Raphael's Hospice again this year for the hospice's annual Light Up A Life remembrance carol service.  The tree already looks beautiful, and we are very much looking forward to seeing it being lit up on Sunday 6th December.
The event will take place within the grounds of St Raphael's Hospice, North Cheam, SM3 9DX.  Gates will open at 3.30pm when mulled wine and mince pies will be served in St Bede's (at the rear of the Hospice), with the service itself taking place between 4.30pm and 5.30pm.  For more information about the event itself, please click here.
Christmas carols will be sung and prayers will be said to celebrate the life of loved ones, family and friends who have passed away.  They will be remembered through Christmas and into the New Year on the hospice's "Tree of Light".  Supporters of the hospice have been invited to make a donation in memory of a loved one or friend who will be remembered through the lights that shine on the tree.
Anyone who made a donation before Friday 6th November will have had their name printed in a special commemorative brochure and their memory will be illuminated on the Tree of Light. Names of loved ones will also be placed in the book of remembrance in the Hospice Chapel. However, if you would like to make a donation you still can by going to https://www.eventbrite.co.uk/e/st-raphaels-light-up-a-life-2015-tickets-19113149946, by calling their fundraising office on 020 8254 2450, or you can email information@straphaelshospice.org.uk for more information.
St Raphael's Hospice cares for over 1,000 patients every year, both in the hospice and in their own homes.  They rely on charitable donations, fundraising and legacies for the three quarters of the £5.6million it costs to provide the exceptional services they do for the community.  This event is the biggest fundraising event in their calendar, and last year it raised £114,000 for the hospice.  For more information about St Raphael's Hospice and the work they do, please visit their website: http://www.straphaels.org.uk/
Truelove's has a branch in Cheam on the High Street which is run by Janice Harley, who joined the company in 2010 after arranging her own mother's funeral with us, wanting to assist families during their time of need.  Janice is a qualified funeral arranger, having gained her Certificate in Funeral Arranging and Administration from the London Association of Funeral Directors.  Truelove's has served families in Cheam since our very early years, having opened a branch in Cheam in the 1930s before moving to our current purpose built premises in October 1957.  For more information about our Cheam branch, please visit http://www.watltd.co.uk/branches/cheam/
The Cheam branch is just one of the sixteen branches that WA Truelove & Son Ltd has in the local area currently, with the others being Banstead, Caterham, Coulsdon, Dorking, Epsom, Leatherhead, Mitcham, Morden, Oxted, Reigate, Wallington, Worcester Park, and the three in Sutton (our Head Office, and the branches in Mulgrave Road and the High Street).  For more information about WA Truelove & Son Ltd, please visit http://www.watltd.co.uk/.